What to know about cavapoos
And our Breeding program
Michigan's Top Cavapoo Breeder
Hi friends! Below you will find information all about Sleeping Bear Kennels, our cuddly Cavapoos, and our family. We specialize in puppies with temperaments to become service dogs, emotional support dogs, therapy dogs, and all around fantastic family companions. Cavapoos are family oriented, cuddly, loyal, intelligent, and gentle natured.
What To Know About Cavapoos
Cavapoos are family oriented dogs.  They do not enjoy being left alone, and always want a member of the family nearby to cuddle.  From the Cavalier King Charles Spaniel, they get their kind, gentle nature, their easy going attitude, and their love of snuggles.  From the Miniature Poodles they get their intelligence, loyalty, and humor. Cavapoos are fun loving, biddable, and easy to train.  They housebreak easily, and like any dog enjoy consistency and structure of routine. If not properly socialized and acclimated to be left home by themselves, they may become anxious, nervous, or clingy.   Avoid this by utilizing early socialization with people, places, and other pets, and train your dog to be left alone for short periods.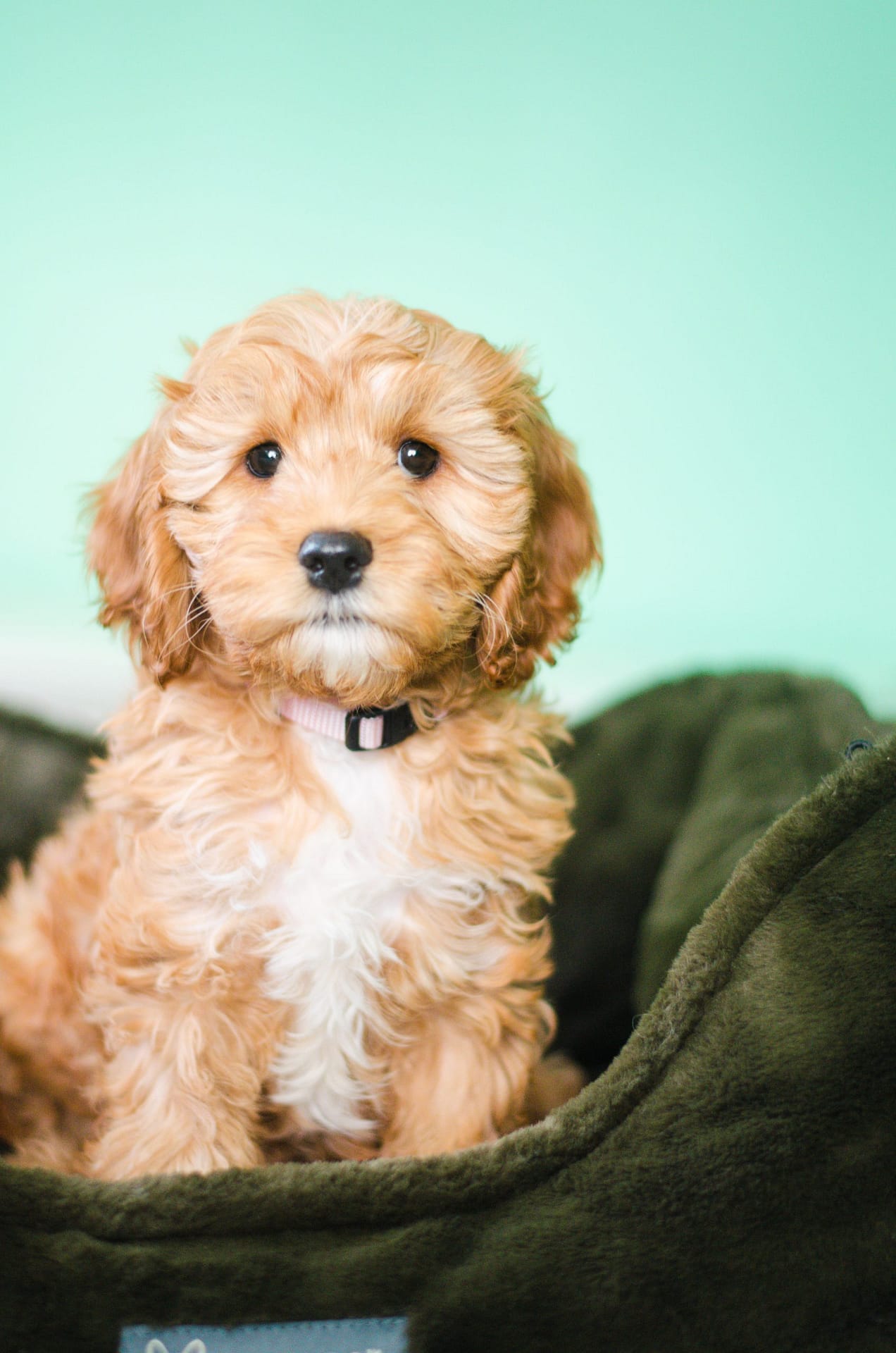 What to know About Sleeping Bear kennels
Our Breeding Program
Selection of the best parents who are free of severe genetic and health conditions

We stick to red and red and white colors because our focus is on health and temperament

Health and genetic testing for our parents

Early neurological stimulation for our puppies

High-quality food for all our dogs

Observation and temperament testing to help each puppy find it's forever home

In-home environment with an emphasis on comfort, cleanliness, and safety
Our Waitlist Process
We are so excited for you to include us in your journey to adding a new member to your family.
As an ethical breeder, we have a waitlist process to ensure we are finding each puppy their forever home.
1. Read through the website and check out Sleeping Bear Kennels on Facebook.
There is a lot of information on this site, including the waitlist process, cost, and tons of resources. You can also read through the deposit contract and final contract to make sure those are in line with your expectations. On the Facebook page you will find photos of past puppies who are now fully grown, videos of our whelping set up, waitlist updates, and more.
2. Fill out a waitlist form. Send us an email: info@sleepingbearkennels.com
Our on-page form was having some errors, and we weren't getting them all, so we are going back to email!
3. Schedule a video chat.
Once I receive your completed waitlist form, we will schedule a time to video chat. Don't be nervous – this is simply so you can see that I'm a real person (not a scam!) and I can answer any questions you have about the program, and we can make sure it's a good fit for what you are looking for.
4. Place a deposit.
Once our video chat is finished, if it's a good fit, I'll send you another copy of the puppy contract for you to review, as well as deposit information and a deposit contract. To learn more about why we require a nonrefundable deposit, read our questions and answers section.
5. Keep an eye out for updates
I send out periodic emails with waitlist updates.
6. Once Puppies Arrive
Once puppies arrive, we will go down the the waitlist in order of deposits to confirm interest in the litter. If now is not the right time, don't worry, you can always move your deposit to a future litter. Every family has different levels of experience, and I want to make sure everyone is prepared for their new puppy. Week 5 is when we have our puppy family visits. Week 6 puppies get there health checks and first vaccines with our vet. Day 49 is temperament testing and puppy matches!
6. Once Puppies Go Home
Puppies go home at 8 weeks with their vet records, microchip, free 30 days of Trupanion Pet Insurancem enough food for their first week, toys and a blanket with scents from mom and their littermates, and more.
I will be available during puppyhood and after to offer support and guidance, answer any questions, and to share in any milestones and joys. I'll check in at first to see how new puppies are settling in, but you are always welcome to reach out with any needs. As a dog trainer, I'm always happy to troubleshoot any issues you are having, so never be afraid to reach out, because an unwanted behavior is easier to prevent if stopped early.
About Cavapoos
Cavapoo "Breed Standards"
Cavapoos are also called Cavadoodles and Cavoodles. The "breed standard" for Cavapoos is between 10-25 pounds. We breed for Cavapoos in the 15-20 pound range, and most are about 16 pounds fully grown. Cavapoos should have proportial legs that are not short and stumpy. They should not be brachycephalic or have protruding eyes. These can all be signs of genetic conditions.
Cavapoo Colors
Here at Sleeping Bear Kennels, we breed for Red Cavapoos, Apricot (which is a shade of red!) Cavapoos, and Blenheim (or Red and White) Cavapoos. Breeding for other colors is a lot of fun (you never know what you are going to get!) but we like to focus on health first and foremost. 
Cavapoo Lifespan
Cavapoos live to about 12 years old.
Cavapoo Barking and Potty Training
I find Cavapoos very easy to train compared to other breeds. Housebreaking is usually very simple as long as you have a plan in place and are able to be consistent, and barking tends to be an individual behavior and one that can be modified with training, Cavapoos as a breed are not overly bark-y or obnoxious.
Cavapoos F1 vs F1b
I get asked ALL OF THE TIME what the difference is. I hate to break the internet myths but – NONE. Genetically you can be likely to get more of a wavy vs curly coated litter, but A. That varies with every litter. B. Their wavy/curly/fluffy/dark red/apricot coats change around 2 years old. So maybe you have the curliest darkest red puppy in the litter – they may turn into a light apricot adult with more waves than curls – or vice versa. I'm more concerned about matching you with a puppy that fits your expectations, and that is going to be a forever part of your family. 
How Much Does a Sleeping Bear Puppy Cost?
Waitlist Deposit
We charge a $1,000 non-refundable deposit. We run an ethical program here at Sleeping Bear Kennels. We aren't producing puppies to then sell to turn a profit. Families who share our ideals and goals of utilizing every tool and resource to produce well-tempered, healthy puppies who will be forever family members find us. If we don't have at least 4 waiting families per litter, we don't have a litter. That ensures every puppy has a family before coming into this world.
Full Cost For A Puppy
The full cost for a Sleeping Bear Kennels Puppy:
1. $1,000 nonrefundable deposit
2. $3,000 remaining balance due at Puppy Pick Up
3. $240 Michigan Sales Tax
Total Cost: $4,240
Please also consider the following costs:
Regular vet visits $200-$400 a visit
Pet Insurance $20-$45 a month
Flea, Tick and Heartworm Medications: $35-$75 a month
Food: $80 a month
Emergency Vet Visits: $4000+ (Maggie's broken leg recently cost us nearly $10,000 including 12 weeks of weekly follow up – but we maintain Pet Insurance through Trupanion so the actual cost to us was about $3,000)
Why Is Genetic and Health Testing So Important?
Health testing is super important.
For ANY Breeder look for:
Full Genetic Testing (not just 1 or 2 tests) through companies like Embark Vet
OFA Certifications for all parent dogs
Those are the absolute, basic minimum testing that should be done, and you should always ask for a copy. 
The biggest reason is health. We can't test for everything, so genetic testing is used to understand risk factors of some diseases, and use smart breeding to lessen the chances of disease in puppies we produce. This is never a guarantee. Like in people, conditions and diseases happen.
Health clearances are done on parent dogs, mostly after the age of 2, to check the health of certain organs, joints, and tissues.  For example, a hip clearance means the dog has good hips and is not prone to hip dysplasia. For Cavapoos – this means hip, elbow, patella, cardiac, and eye clearances, most performed by veterinary specialists.
Health Checked is not the same and can mean that the breeder themselves looked the dog over, or a vet could have.  While that is great, that does not clear the dog of genetic diseases or health issues that can only be seen by blood work, specialist examination, x-ray and other means.
AKC and USDA Certifications
The AKC is simply a purebred registry. Since Cavapoos are a mix of 2 breeds – they don't have this (our purebred moms do!) This does not in any way speak to the breeders ethics or health testing. It's just a $35 fee to essentially confirm pedigree.
USDA Certifications: This means they are a wholesale breeder selling puppies sight unseen – or in other terms: Puppy Mill.
A Note on Sites Like "Greenfield Puppies"
Puppy Mills have gone digital, and often include puppy brokers! Be wary of breeders who have lots of different breeds, lots of litters, puppies with paypal links to their names, and generic mentions of "family farm" with no specific location. Not every breeder likes to share their family life and photos, and that's okay, but you should still be able to get a sense that they are real people – social media is great for that. If ever in doubt, trust that you may be dealing with a scam, puppy broker, or puppy mill.
Why is early socialization important?
Early socialization is important because it allows puppies to normalize people of all different shapes, sizes, and descriptions, as well as environmental factors such as different places, busy places, traffic, strange noises like fireworks and thunder, and many many more things that we take for granted and don't notice.
Without this, a puppy may grow up into an adult dog who is scared of men in hats, or Halloween costumes, or in extreme cases, may harm a baby or toddler because they assume they are playthings, or small animals to be chased. This socialization also applies to exposure to sights, sounds, noises, smells, and environments. Ever met a dog scared of thunderstorms? This is common, and use of early socialization and noise desensitization hope to lessen or avoid these types of fears. Exposures and socialization starts in the first weeks, and is important to continue once home, especially between weeks 8-14. It's equivalent to "early education" or preschool for kids, and is shown to be vitally important to development.
Health Quality Temperament
Our goal is to provide our Cavapoo puppies with the best start in life so that they can go on to become well-loved, healthy, obedient, treasured members of their families forever.  We want our Cavapoo puppies to go on into the working professions. This includes service dog work, emotional support animals, and therapy dogs.
We do this by maintaining the highest standards in health, nutrition, temperament, socialization, and enrichment for our dogs and puppies.  We use the most up to date genetic testing to make sure our puppies are healthy.
We are an in-home kennel, but we also believe in providing a safe, clean environment for our moms and puppies.
This means each age and stage has a different environment, from the warm, quiet, safe whelping pen, to the hustle and bustle of the enriching environment for our older puppies.
We love to post lots of videos and photos on our socials. That's the best way to get the behind the scenes look!