MICHIGAN'S TOP CAVAPOO BREEDER
Located in Michigan
2 hours outside of Detroit, Michigan
2 hours outside of Chicago, Illinois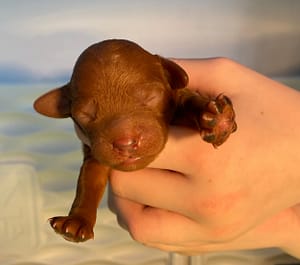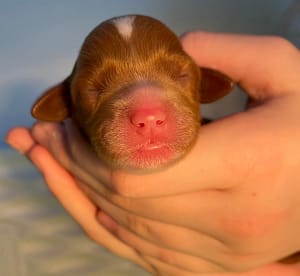 Questions and Answers
Q: How much are your Cavapoo puppies? Do you offer discounts? How does your waitlist work?
A: Our puppies are all $4,000, with a nonrefundable $1000 deposit.  This is a commitment fee – it ensures that each puppy has a home before being born.  The average Cavapoo litter is 3-5 puppies. We add names to our waitlist in order of deposit. First you will receive a waitlist form. Once I receive the completed form, we will schedule a time to chat via Zoom. This is you can see that I'm a real person, and ask any questions to ensure my program is a good fit for you.
 Q: What health testing do you do?
A: We use Embark and Animal Genetics for genetic testing, and perform all recommended OFAs. All of that information is available under "mom dogs" for our females. All stud dog information is available upon request, but I ensure that all stud dogs also meet all requirements. We also stay in close contact with our veterinary team, and perform all recommended tests. In addition to being in great physical condition, we expect our moms and dads to have a pleasant, outgoing, friendly, and sweet demeanor. You can learn more about OFA certifications through ofa.org
Q: Are your dogs "genetically clear?"
A: While we can test for 250+ genetic risks, we can't test for them all! What genetic testing allows us to do is eliminate big, devastating or even life-limiting conditions in our breeds, such as progressive retinal atrophy, curly coat dry eye syndrome, episodic falling syndrome, and muscular dystrophy. If we breed out carriers of one copy of minor autosomal recessive traits, or even minor conditions that impact a majority of the breed, we eliminate a lot of diversity from the gene pool and could unknowingly produce some of the big, scary conditions that we can't test for. You can learn more about genetic testing in breeding through embarkvet.com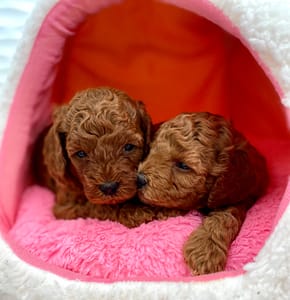 About sleeping Bear Kennels
Welcome! I'm the owner and founder of Sleeping Bear Kennels, Michigan's Top Cavapoo Breeder.  The goal here at SBK is to breed puppies who have the ability to go on for service, emotional support, and therapy work, as well-behaved family companions. My background is in dog training, and I'm currently an AKC CGC Evaluator. I am passionate about ethical breeding, which means no cutting corners. We utilize available genetic testing and all recommended health testing including OFA Certifications. We also are extremely selective with our parent dogs and how many puppies we produce – that means only having litters when we have at least as many waiting families as expected puppies.
Beyond the dog world, I'm a wife, mother of four, and a flight attendant. You can find me going for a run around Amsterdam or London, or out on a hike with the dogs.
Knowing how important the decision to add a new member to your family is, I thank you for considering my program.
Warmest regards,
Bridgett (Birdie) Flanders